Laptop Accessories
Refine Search
USB 2.0 External Portable Caddy For Laptop CD/CD-RW/DVD/DVD-RW/Combo SATA Drive. Fit All 12.7mm SATA Laptop Tray load Drive ( CD-rom, CD-RW, CD Combo, DVD-Rom, DVD +/-RW, Blu-ray). Support USB2.0 (480Mb/sec), fully backward compatible with USB1.1 (12Mb/sec). Compatible with All USB Port . NO External Power Required. Easy to install. After you..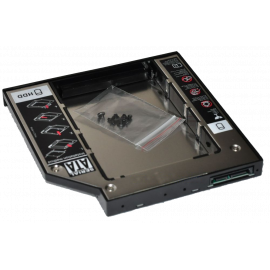 Out Of Stock
Model: 12.7mm SATA-to-SATA Description: This universal SATA Optical Bay Hard Drive Adapter lets you add a second hard drive to your laptop system. With a second hard drive, you can quickly store and back up critical data. Add this caddy to your laptop to give yourself another hard drive. Simply remove your CD/DVD-ROM drive and put the Caddy (with t..
Features: Brand new and high quality. Add a second hard drive to your laptop using your laptop's optical drive. This is a great solution for those that want to add a second hard drive in their laptop. This is a good working adapter and is guaranteed. Like a primary HDD, fast & reliable connection. Simple installation : remove CD-ROM drive and ..
Showing 1 to 3 of 3 (1 Pages)