2nd HDD Caddy (9.5 MM) - SATA to SATA
Product Code:
LA-2HDDC-SATA-SATA-9.5MM
Product Description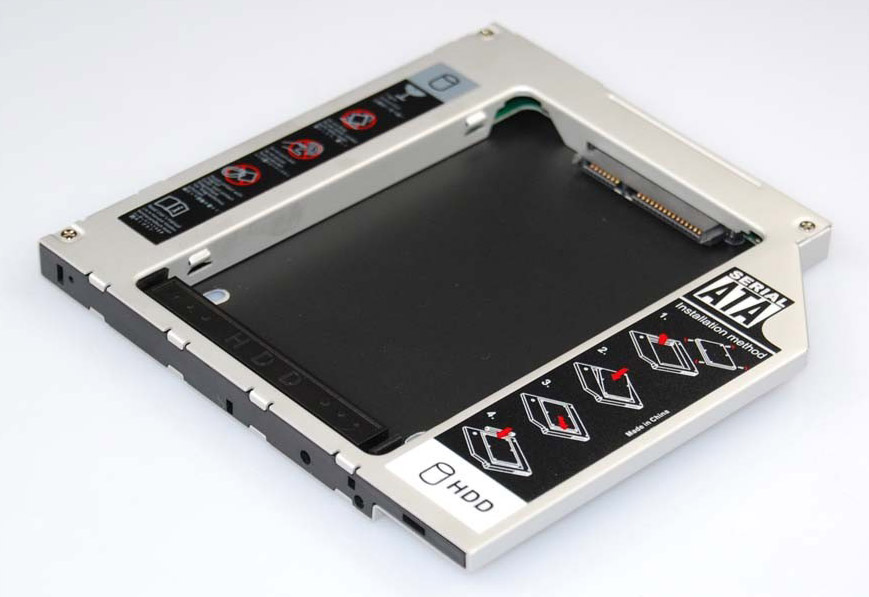 Features:
Brand new and high quality.
Add a second hard drive to your laptop using your laptop's optical drive.
This is a great solution for those that want to add a second hard drive in their laptop.
This is a good working adapter and is guaranteed.
Like a primary HDD, fast & reliable connection.
Simple installation : remove CD-ROM drive and plug the adapter (plus hard drive) in slot.
Compatible model:
Apple Models:
non-unibody models- Before Late 2008 Unibody MacBook/MacBook Pro
Apple macbook pro (13,15,17) SuperDrive MB466LL/A MB207LL/A MB470LL/A MB226LL/A MB724LL/A MB375LL/A...
SONY:
VAIO S150 VAIO S150P VAIO S170 VAIO S170B VAIO S170P VAIO S240P VAIO S260
VAIO S270 VAIO S270B VAIO S270P VAIO S360 VAIO S360PR505, V505 series,
Z1, TR,PCG-TR, VGN-S270 VGN-S270B VGN-S270F VGN-S270P
VGN-T150PCG-V505 VGN-S260, VGN-S150, VGN-S170, VGN- S280, VGN-S360, VGN-S380...VGN-Series,
S series etc... PCG-TR3A, PCG-TR3AP, PCG-TR3F, PCG-TRF, PCG-V505DC2, PCG-V505DC2K,
PCG-V505DC2P, PCG-V505EC, PCG-V505ECP, PCG-V505EX, PCG-V505EXP,
PCG-Z1WA, PCG-Z1WAMP1, PCG-Z1WAMP2, PCG-Z1WAP, PCG-Z1WXFP, VGN-S150,
VGN-S150F, VGN-S150FP, VGN-S150P, VGN-S170, VGN-S170B, VGN-S170P,
VGN-S240P, VGN-S250F, VGN-S250FP, VGN-S260, VGN-S260P, VGN-S270,
VGN-S270B, VGN-S270P
ACER
3002,3201.3202.3203...
ASUS
Supports may models likeM5, W5, 3series,U5.U5F.W5.M5.M5200.V6.3 series...
HP
6230, 6220
FUJITSU
Supports most models likeT70, T50, P7010 ...
And other notebook (If this device accept 2.5"/9.5mm SATA HDD ,the Laptop Connector can fit for PATA / IDE )
What is included:
1 x 9.5mm Hard Drive Caddy
4 x Screws